Foot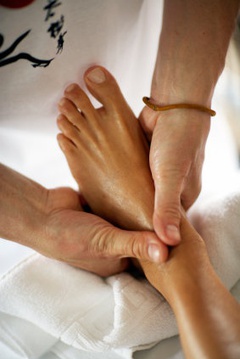 The feet are the most important and probably the most neglected part of the body. They needs regular care and attention from time to time to make you feel healthy. In this massage I also apply reflexology technique. According to this technique, each point on the foot is connected, via nerve endings, to tissues, organs and systems of the human body. Handling adequately the exact points of the foot you get a massage as a reflection of the corresponding zone of the body, even influencing areas not reachable by hand, such as internal organs.
Make an appointment
Hattawej's massage treatments can be performed at my space in the south-center of Amsterdam or either in the space of you own home.
Topaasstraat 1, 1074 SX Amsterdam
0031 634 644 842 (private clients)
062333 6011 (hotels)
Bookings available from 10am till 10pm every day.

Treatment can also be provided anytime after 10pm or before 10am. A charge of 100% extra will apply.

A 50% surcharge is added for services outside those hours and bank holidays.