Holistic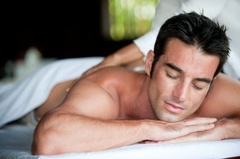 My most popular treatment designed to promote relaxation, improve circulation, relieve muscle tension and reduce stress. This type of bodywork can be experienced in a lighter or stronger style depending on the individualís preference. It's a very effective treatment for jet lag.
In this type of massage, I will be working also with clients chakras for a better energy balance in life.
*Chakras: seven different energy points along the body.
Make an appointment
Hattawej's massage treatments can be performed at my space in the south-center of Amsterdam or either in the space of you own home.
Topaasstraat 1, 1074 SX Amsterdam
0031 634 644 842 (private clients)
062333 6011 (hotels)
Bookings available from 10am till 10pm every day.

Treatment can also be provided anytime after 10pm or before 10am.

A 50% surcharge is added for services outside those hours and bank holidays.